What EuroPride 2022 in Belgrade will bring to Balkans and LGBTI+ community in Europe?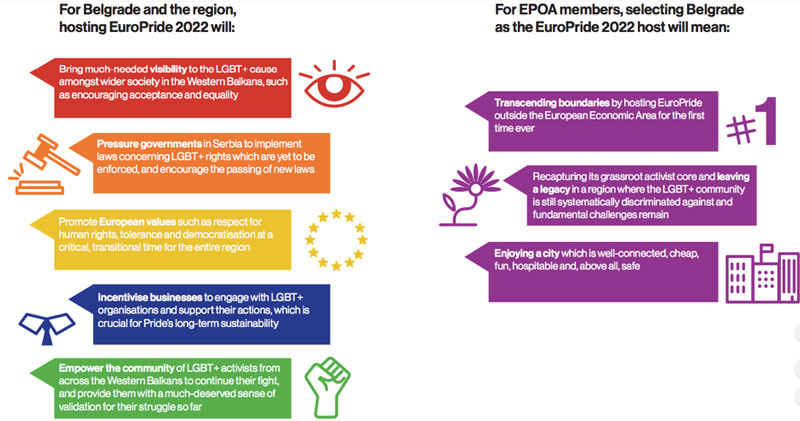 [vc_row][vc_column][vc_column_text]
EuroPride 2022 in Belgrade will be a landmark event for Europe's entire LGBTI+ community.
Away from the colourful celebrations which embody Pride marches across the continent, a struggle for basic human rights is in full-swing on its eastern frontiers. The LGBTI+ community remains one of the most discriminated groups in the Western Balkans, while legislations on same-sex partnerships and gender identity are yet to be adopted. Hosting EuroPride outside the European Economic Area (EEA) for the first time will, therefore, not only leave a meaningful legacy in the region, but recapture a fighting spirit amongst Europe's Pride movements. It will also acquaint the LGBTI+ community with the vast opportunities in the Western Balkans and Belgrade as a city, which is above all, well-connected, cheap, fun and hospitable and safe. 
In the region, the effect of hosting EuroPride 2022 will be truly ground-breaking. While we are under no illusions about the steepness of the uphill challenge that awaits, we are immensely proud of the headway we have made in recent years. Namely, Pride marches today decorate each and every capital city in the Western Balkans, and are spreading to smaller towns and cities in the region. Our latest additions – Skopje and Sarajevo – are shining examples of the importance of Pride for open and tolerant societies to flourish. For this struggle is not only a matter of LGBTI+ rights and issues, but of European and democratic values, of a free-thinking society and of solidarity with all other discriminated minorities. 
It is also a matter of sustainability. We have reached a critical stage where for the first time ever the private sector is realizing the value of supporting our cause. Businesses are enquiring about sponsorship opportunities, and although no tangible effects have been felt yet, we are heading in the right direction and EuroPride in Belgrade will help drive this message to the heart of the corporate world.  
Finally, it will deliver a sense of much-needed empowerment and validation to LGBTI+ activists in the Western Balkans who have been on the frontlines and committed their lives to a struggle for a better and brighter tomorrow. 
We invite you to join us in this defining moment!
[/vc_column_text][/vc_column][/vc_row]