Under the banner of 'I'm not giving up' Belgrade Pride 2019 is successfully held.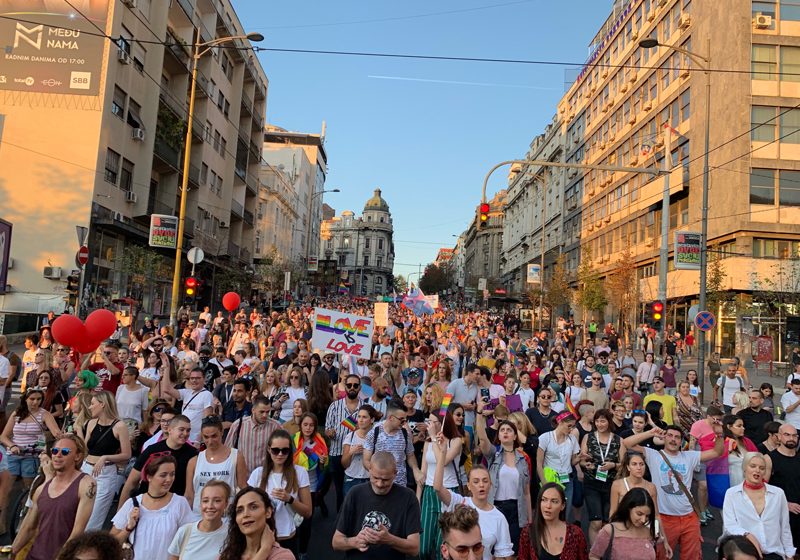 Belgrade Pride under the slogan 'I'm not giving up' was successfully held without any major incidents on Sunday 15th September in Belgrade, Serbia. 
Organizers say around 2,000 people attended, marking the sixth consecutive year that Pride marches have successfully taken place in Belgrade without being banned by local authorities. 
Amongst those in attendance was Serbia's Prime Minister, Ana Brnabic – the only openly lesbian Head of Government – who suggested the event signaled that "Serbia is a truly open and tolerant society."
Activists, though, dispute this and stress that each year their demands have remained the same; reflecting a frustration that LGBT+ rights and issues in Serbia are fundamentally unchanged, despite some superficial improvements. These demands include the adoption of legislation for registered same-sex partnerships and gender identity. 
Goran Miletic, a member of the organising committee at Belgrade Pride and Director for Europe at Civil Rights Defenders told reporters "we also demand stronger efforts to prevent violence and discrimination against LGBT+ persons, and this is primarily directed towards prosecutors and the justice system in Serbia."
During the official program, organisers thanked everyone who supported Pride, and ceremoniously awarded the 'Godmother' of Pride to popular singer Sara Jovanovic, better known as Sara Jo, who said she accepted the title to help break some of the long-standing prejudices in society. "There are two crucial features of any family – love and character. Love recognizes no gender, race,  or any kind of etiquette, "she said, followed by a standing ovation.
In addition to the strong support Sunday's march received from locals, around 100 activists from the region travelled to Serbia to express solidarity with Belgrade Pride.