Solidarity with the LGBT+ community in Turkey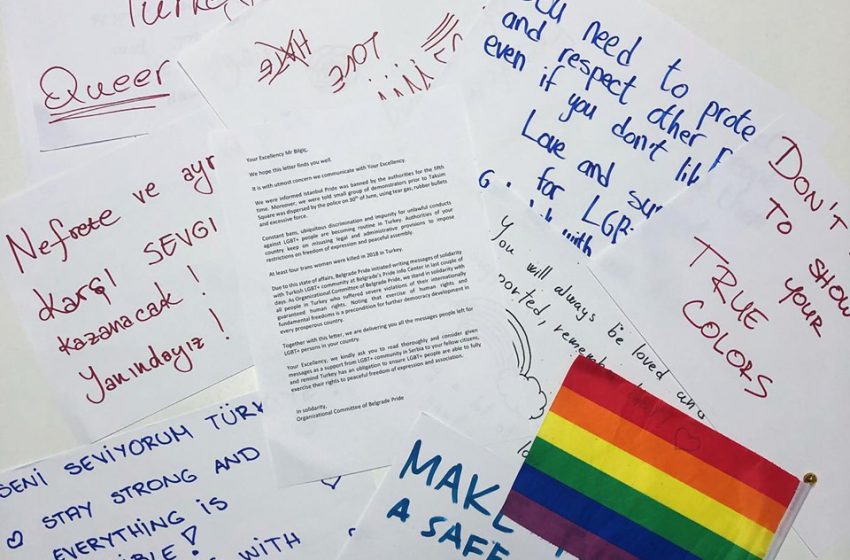 [vc_row][vc_column][vc_column_text]
Pride parade in Istanbul has been banned the fifth year in a row, and a peaceful gathering on the 30th of June near Taksim square was followed by excessive use of force by the police, firing rubber bullets and tear gas.
This kind of behaviour towards the LGBT+ community is part of everyday life in Erdogan's Turkey.
Based on the disputable article of the Criminal Law which bans "an act against public morale", in Turkey there is a long-standing practice of banning any kind of public events relating to LGBT+ rights. Ankara, the capital of Turkey has even publicly banned every public event relating to LGBT+ community, and this case is currently under the jurisdiction of the Constitutional Court.
State of emergency introduced after the Coup d'état lasted for two years and was used as a means of holding Erdogan's power, seeing as permission/power given to the executive government violates human rights in the harshest way possible.
During the period of rule of Erdogan's Justice and Development Party (JDP), LGBT+ people were called all kinds of heinous and derogative names, and by the highest government officials. Thus, representative of this party Ismet Uçma stated there are ways he can prevent homosexuality, Akit, newspaper close to the ruling party has marked LGBT+ activists in Turkey as perverts, which Constitutional Court of Turkey didn't recognise as hate speech, but rather freedom of speech. This was followed by a distribution of flyers about how homosexuality can be "cured" in some of the larger cities of Turkey.
Trans community in Turkey is in an especially bad position, and in 2018 there were at least four cases of homicides of trans women.  Sexual orientation nor gender identity are not recognised in the Criminal Law.
Belgrade Pride in this way, along with the below mentioned organisations, expresses solidarity with the LGBT+ community in Turkey! in Pride Info Centre we have organised an activity of collecting messages of support for the LGBT+ in Turkey and we have delivered all the messages to the ambassador of Turkey in Belgrade.
LGBT+ activists from Turkey are our allies and regular guests on Belgrade Pride parade and we will have the honour to welcome them again his September and hear them from the stage.
We also call upon Ana Brnabić as the present of the government of Republic of Serbia and as a lesbian express solidarity with the LGBT+ community in Turkey and condemn this kind of behaviour towards the LGBT+ citizens.
Belgrade Pride – Da se Zna! – Youth Initiative for Human Rights – Hartefact Group – IZAĐI – Geten – Women in black – International Global Centre Kragujevac – Stablo Kragujevac – Rainbow association – SOS women's centre Novi Sad – Consultation for lesbians Labris – Institute for European Affairs – Committee for human rights Nis
[/vc_column_text][/vc_column][/vc_row]