Pride Week: Grand Opening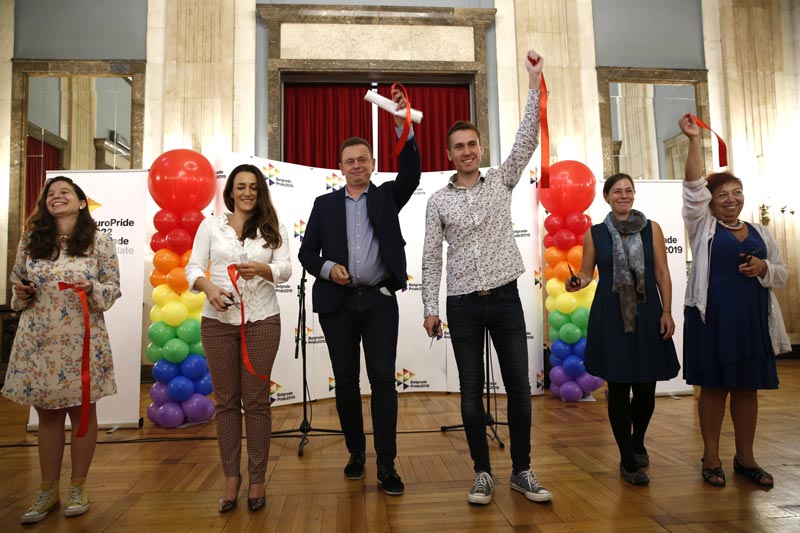 [vc_row][vc_column][vc_column_text]
Pride Week 2019 was officially launched on Monday with an opening ceremony at the City of Belgrade's National Assembly. It will last from September 9th to the 15th, ending with the Pride March and a concert in "Manjež" park on Sunday.
Jovanka Todorović, representing the Organizational board of Belgrade Pride, opened this year's Pride Week and gave an overview of all the important events that will take place. She then invited two proud moms, Gordana Perunović Fijat and Cveta Popović, who participated in the campaign "Ne odričem se" ("I do not renounce"). Movingly, they spoke about how proud they were of their children, and that their children's sexual orientation should never be an obstacle for a parent's love. "I, Cveta Popović, do not renounce my son because of who he loves. In fact, I'm proud of his bravery to be who he is, despite societal pressures." 
Goran Miletić and Marko Mihailović, fellow members of the Organizational board, spoke about the political messages of the "I do not renounce" campaign, as well as Belgrade's candidature to host EuroPride in 2022. Goran Miletić added that, even though there is progress in improving the LGBT+ community's position, members of the community still suffer violence. The demands of Belgrade Pride are the adoption of the law for registered same-sex partnerships, the law for gender identity, a fast and adequate reaction from the state organs and public conviction of government representatives for hate speech and hate crimes towards the LGBT+ community., the adoption of local action plans for the LGBT+ community, an apology to all Serbian citizens who were up until 1994 legally and in other ways, prosecuted for their sexual orientation and gender identity. Also, the organizers state that the bid for EuroPride is significant not only for Belgrade, but for the entire region. It shows that the Balkans can live in peace and love in spite of our differences and past conflicts.
At the end, Pride volunteer Danja Drndarski talked about her personal experience of volunteering. "Being surrounded by those who support you at any moment, regardless of who you love, is of immeasurable value, and I'd like to take this opportunity to thank everyone for their support." 
A few cuts through the red ribbon, and Pride Week is officially under way. 
[/vc_column_text][/vc_column][/vc_row][vc_row][vc_column][vc_column_text][/vc_column_text][/vc_column][/vc_row]