Mr Tree: from Stonewall to Belgrade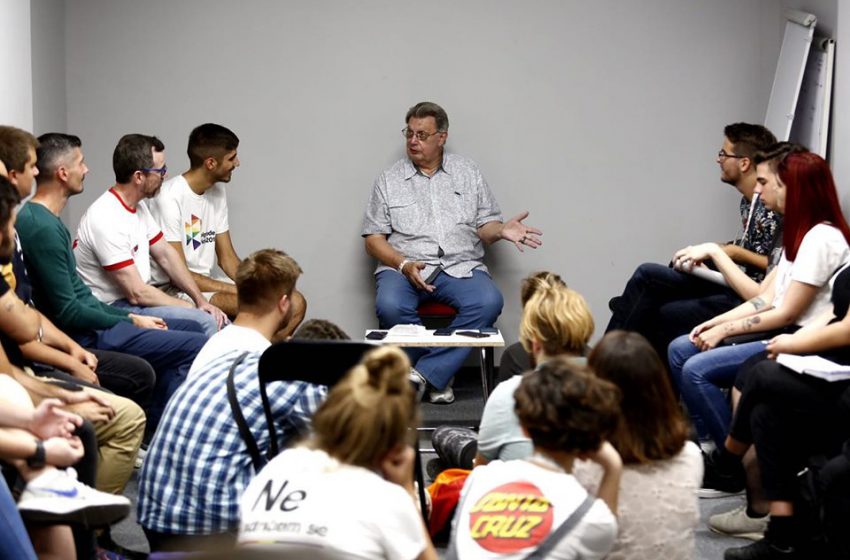 [vc_row][vc_column][vc_column_text]
Belgrade's Pride Info Centre had the pleasure of hosting Fredd E. "Tree" Sequoia – an LGBT+ activist and participant of the Stonewall riots in New York. 
A bartender at the Stonewall Inn, Tree was witness to the very moment that ignited the LGBT+ cause, the police raid and the subsequent riots which unfolded on 28 June 1969. He told a packed crowd at the Pride Info Centre that "nobody expected that such an uprising would result that night and the ripple effect it had on the LGBT+ cause worldwide…I had never broken windows. I never shook a police car. It was so much fun being dangerous"
The popularly-known Mr Tree continued by drawing parallels with the struggle in the late 60s, and the ongoing fight for LGBT+ rights in the Western Balkans. "What we were experiencing then, is pretty comparable with what you (activists in the region) are going through now. You guys here are like one big family and reminds me a lot of the atmosphere we had built around Stonewall"
The session with Tree was one of 70 activities occurring during Pride Week in Belgrade. Pride Week is taking place between 9-15 September, and will conclude with the Pride March on Sunday 15 September at 17h on Slavija square, Belgrade. 
[/vc_column_text][/vc_column][/vc_row][vc_row][vc_column][vc_column_text][/vc_column_text][/vc_column][/vc_row][vc_row][vc_column][vc_column_text][/vc_column_text][/vc_column][/vc_row][vc_row][vc_column][vc_column_text][/vc_column_text][/vc_column][/vc_row][vc_row][vc_column][vc_column_text][/vc_column_text][/vc_column][/vc_row][vc_row][vc_column][vc_column_text][/vc_column_text][/vc_column][/vc_row][vc_row][vc_column][vc_column_text][/vc_column_text][/vc_column][/vc_row]