Human rights conference "Beyond 2020: The LGBT Community in an Era of Populism" takes center stage in Belgrade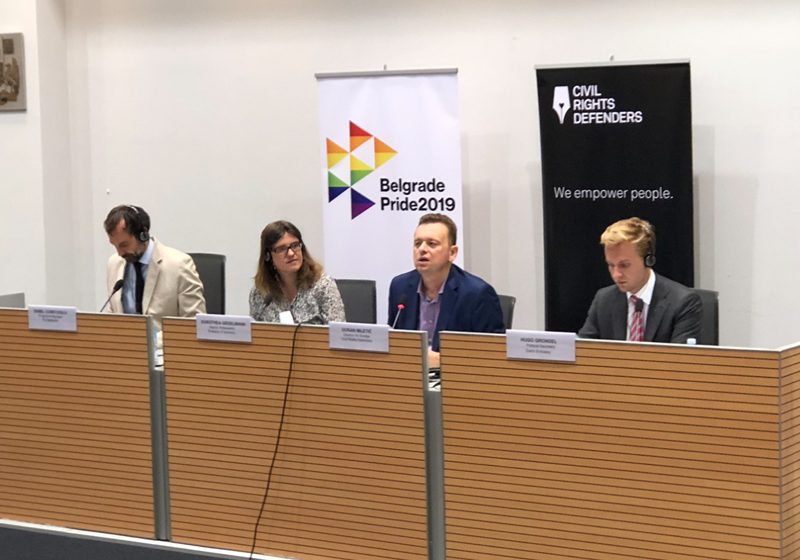 Belgrade Pride in cooperation with Civil Rights Defenders organized a human rights conference entitled "Beyond 2020: The LGBT Community in an Era of Populism".
Held on Friday 13 September in Belgrade, the conference invited human rights experts and LGBT+ activists from Serbia, Croatia, North Macedonia, Albania, as well as the US, Sweden, Germany and The Netherlands, to share views on LGBT+ issues in an era of populist narratives.
Populist trends are on the rise at both international and regional level and its effects are being felt across the LGBT+ community. From the West to the Balkan states, anti-LGBT+ discrimination is being accommodated by right-wing populist agendas, which both dominate public discourse and threaten our decades-long fight for equality and freedom for all. In order to map out the struggle ahead and what awaits post-2020, participants shared experiences across the world and how to confront such threats in unison and solidarity. 
Keynote speakers at the conference included Dorothea Gieselmann, Deputy Ambassador at the Embassy of Germany in Belgrade, who drew parallels with the growing right-wing populist trends in her country, and the current political landscape in the Western Balkans. 
Fredd E. Siquoa, better known as 'Mr Tree', who was a bartender at the Stonewall Inn on that fateful night in 1969, also shared his experiences from the early struggle for LGBTI rights. He told those in attendance: "One day this fight will be over and I will proudly remember that I was with you at the beginning of your journey".