Activists from the region join Belgrade Pride 2019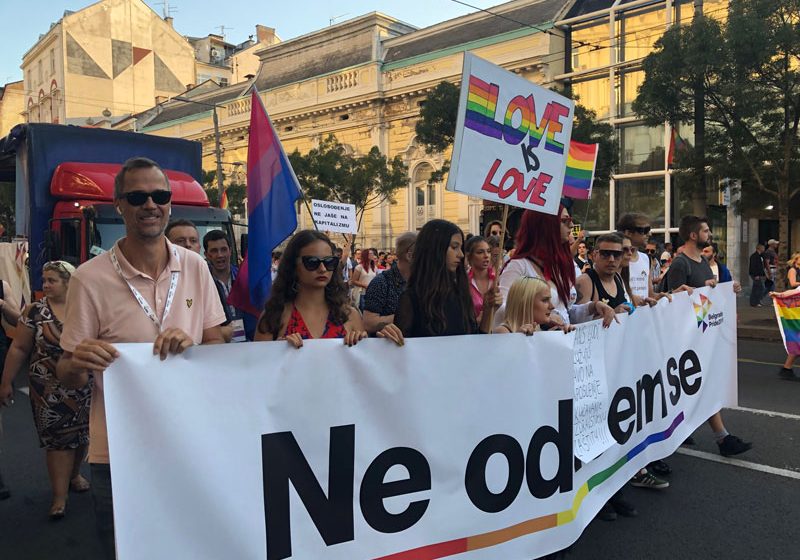 [vc_row][vc_column][vc_column_text]
Over a hundred LGBTI+ activists and civil society organisations from across the Western Balkans joined Belgrade Pride last Sunday (15 September). 
In the spirit of solidarity, activists from Montenegro, Albania, Kosovo, North Macedonia and Bosnia & Herzegovina made their way to Serbia's capital to show support to Belgrade Pride. Dozens of activists from Greece, Norway, Belarus and the United States were also amongst the crowd, sharing experiences with one another on the struggles they face in their respective communities. 
Most guests from the region arrived for the entire Pride Week, which featured over 70 cultural and informative events including Pride Theatre and the International Pride Forum, where several participated in the discussions. 
This show of unity amongst Pride activists in the Western Balkans comes after each organization in the region officially submitted letters of support to Belgrade's EuroPride 2022 bid. Fatima Dzehverovic, from Bosnia and Herzegovina Pride March organisation explained "Bosnia & Herzegovina, Croatia, Montenegro and all the countries from the region are with Belgrade. This is a defining moment for all of us"
Such solidarity is a growing trend in the Western Balkans where activists often attend each other's key manifestation. As the number of cities to hold Pride marches grows year by year, regional support becomes a central feature in the fight for equality.
[/vc_column_text][/vc_column][/vc_row]